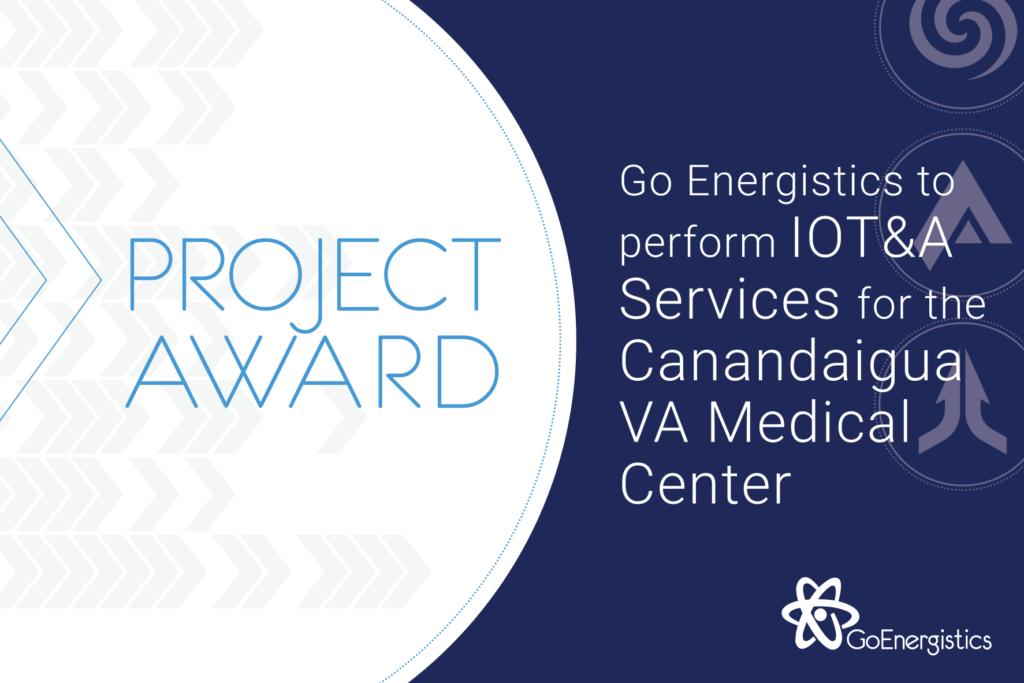 The Service-Disabled Veteran-Owned Small Business was recently awarded a contract to support a major renovation at multiple locations within the VA campus.  
Go Energistics (GoE), a Service-Disabled Veteran-Owned Small Business (SDVOSB) specializing in industry-leading project management delivery, is pleased to share that it has been selected to provide initial outfitting, transition and activation (IOT&A) services to the Department of Veterans Affairs, Veterans Health Administration (VHA) for the Canandaigua VA Medical Center in Canandaigua, NY. The Canandaigua CARES project consists of major renovations and new construction, which will run concurrently at four distinct locations, accounting for nearly 322,000 square feet of space.
"We are overjoyed at this opportunity to support the Department of Veterans Affairs with such a significant project," shared GoE President & CEO Adam B. Shepherd. "As an SDVOSB, the core of our business is centered on supporting our nation's Vets and we have been honored to support VA with various endeavors over the years. This latest award represents the continuation of our longstanding goals in this area."
Building 9, which houses Domiciliary care, as well as a new food and nutritional services department;
Building 3, which houses rehab services, Adult Day Healthcare Services, Patient Resource and Recovery Center Service and offices for chaplain service, Prosthetics, and the Women Veteran Call Center; and
The Community Living Center Small Houses and Community Building, CLC, which will accommodate 96 baseline nursing home beds, as well as a community building.
The project will be executed through a phased approach, with GoE responsible for the planning and IOT&A activities necessary to successfully open the doors at each location. GoE's full scope of services will include Comprehensive Project Management services, Interior Design, Furniture, Fixtures, and Equipment (FF&E), Space Planning, Acquisition Planning and Acquisition Package Development, and Activation services and Post Occupancy support. This project will require GoE to successfully execute activities in a simultaneous or parallel manner to ensure all projects achieve established "Day One" openings.
Since its founding in 2011, GoE has delivered its strategic project delivery solutions in support of healthcare projects for the U.S. Department of Veterans Affairs (VA), Department of Defense (DoD), as well as, within the private sector. Through its mission of Serving Those Who Serve, the company has helped to improve healthcare for Veterans, healthcare providers, patients, and their families, across the nation. In late 2021, the company was awarded a Multiple Award Task Order Contract by the U.S. Army Corps of Engineers, followed by its addition to the General Service Award (GSA) schedule earlier this year.
"This is an exciting time for our business – most importantly because we are positioned to expand the reach out mission of 'Serving Those Who Serve'," shared GoE Executive Director, Strategy & Corporate Operations Christy Ullo. "As we grow, we look forward to continuing to support our VA and other Federal clients, and the customers that they serve, with our strategic project delivery solutions."
The Canandaigua CARES project is set to open in phases, beginning in February 2024.
Additional information/comment/photos:
Christy Ullo, Executive Director of Marketing & Communications: 917.226.2127
Adam B. Shepherd, President & CEO: 347.0590