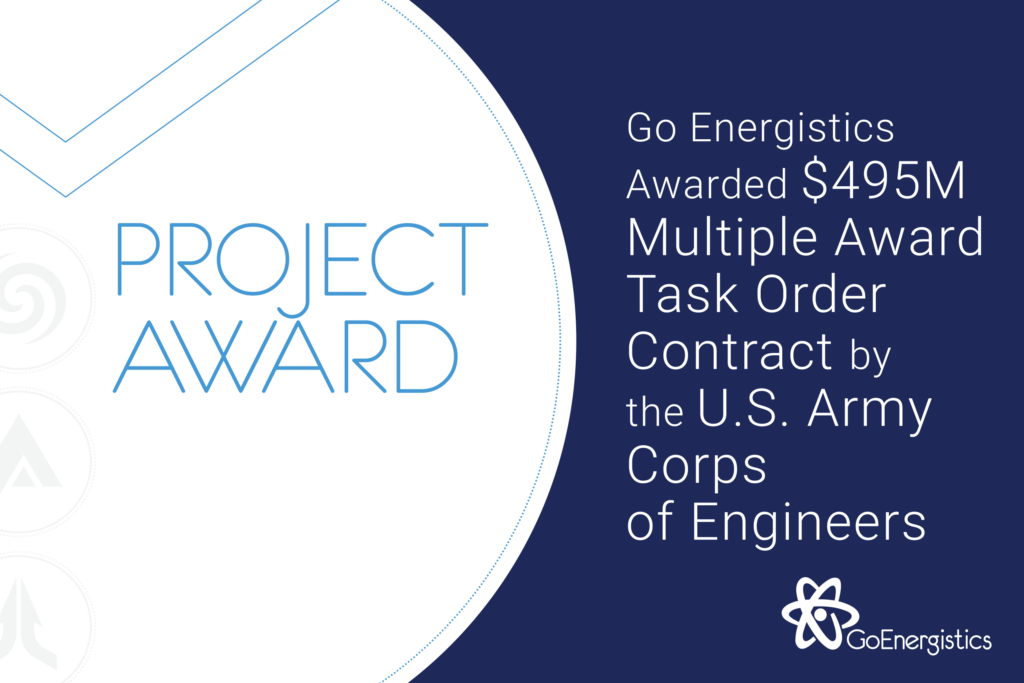 Under this contract, GoE will provide Initial Outfitting and Transition services in support of new build construction and renovations at Defense Health Agency facilities worldwide.
Go Energistics (GoE), a Service-Disabled Veteran-Owned Small Business (SDVOSB) specializing in industry-leading project management delivery, is pleased to share that it has been selected to provide initial outfitting and transition (IO&T) services to the U.S. Army Corp of Engineers (USACE), Huntsville through a Multiple Award Task Order Contract (MATOC). Under this contract, GoE will lend its extensive expertise and strategic project delivery solutions to support new build and large-scale renovation projects at Defense Health Agency (DHA) facilities around the world.
Valued at $495 million over five years, this is the third generation IO&T MATOC developed to support the more than 700 facilities managed by the DHA's Facility Enterprise. GoE's role within IO&T MATOC III will be to lead the initial outfitting of furniture, fixtures and equipment, as well as transition and activation activities to prepare both staff and patients for enhanced healthcare services at these facilities.
GoE President & CEO, Adam Shepherd shared, "We are delighted to join USACE in its noble cause of improving and expanding military healthcare to support our service members and their families. As an SDVOSB with many Veterans on our team, this mission is extremely close to our heart and in alignment with our overall mission of 'Serving Those Who Serve'."
He continued, "We have assembled an exceptional team to support MATOC III, led by Executive Director Analiese Kennedy, offering a deep understanding of the mission, needs and future requirements of DHA, the Health Facility Planning Agency (HFPA) and the Department of Defense and the right balance of relevant project experience, both within the continental United States (CONUS) and outside of the continental United States (OCONUS)."
IO&T MATOC III is the latest addition to GoE's growing portfolio as a trusted provider of IO&T services, having delivered its strategic project delivery solutions to clients within the Federal healthcare sector since its founding in 2011. Over the past few years, the company has expanded further into state and private sector healthcare, most recently with its selection to provide transition and occupancy planning services at Hawaii State Mental Health Hospital.
Christy Ullo, Executive Director, Strategy & Corporate Operations shared, "We at GoE are on a mission to shape, transform and evolve healthcare systems by applying our expertise to support business and building transformations. Our goal of 'Serving Those Who Serve', while born out of our commitment to supporting our Veterans, has extended to include the doctors, nurses and other clinicians who serve patients, helping to shape healthier communities. We look forward to continue this mission in supporting of MATOC III projects globally."
GoE's full suite of IO&T support services includes:
Equipment Planning
Equipment Inventory
Design Planning
Concept of Operations (CONOPs)
Acquisition & Procurement
Transition Planning
Logistics & Warehouse Planning
Occupancy (Operational) Planning
Installation & Inspection
Relocation (reuse & staff)
Training & Simulation
Decommission Services
Post Occupancy Evaluation
In addition, GoE offers a range of Design Build support and Management Advisory services, as well as its proprietary GoE-FiTTM  technology, which touches on all phases of project delivery to streamline equipment planning, project tracking and change management throughout the planning, design, procurement packaging, warehousing, delivery, installation and transition process.
Additional information/comment/photos:
Christy Ullo, Executive Director of Strategy & Corporate Operations: 917.226.2127
Adam Shepherd, President & CEO: 214.347.0590