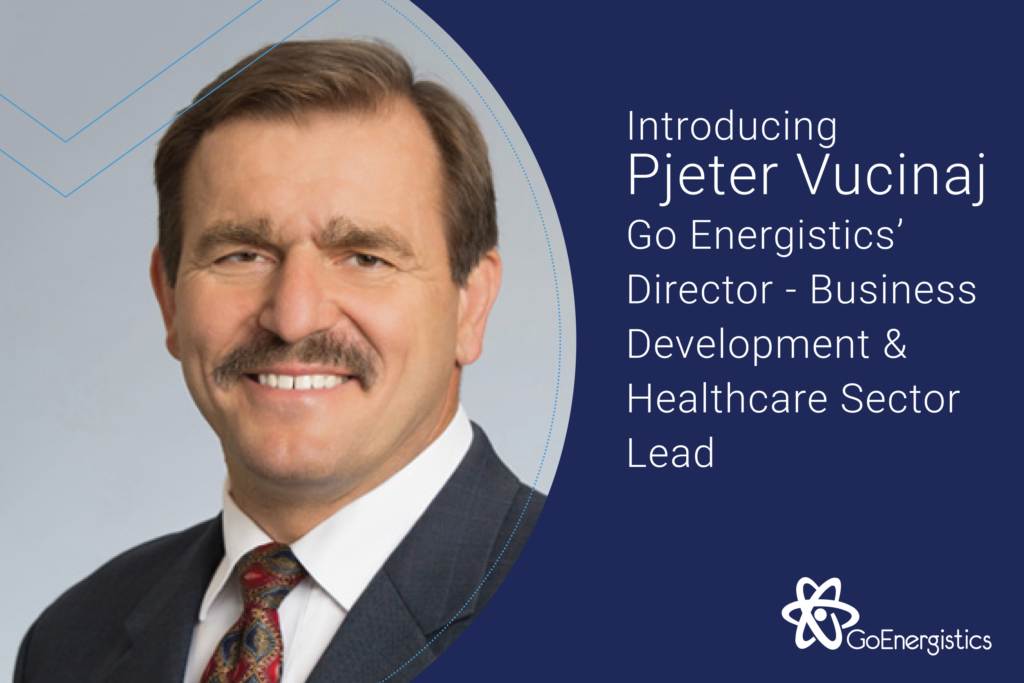 Go Energistics (GoE) is pleased to announce that Pjeter Vucinaj has joined the GoE team as Director of Business Development (BD) and our Healthcare Sector Lead. In this role, Mr. Vucinaj is responsible for leading GoE's overall BD strategy, with a particular focus within the healthcare sector, including both Federal and private sector pursuits. Additionally, he is currently applying his significant project management skills as Program Manager for GoE's Multiple Award Task Order Contract (MATOC) with the U.S. Army Corp of Engineers (USACE), Huntsville.
GoE Executive Director – Strategy & Corporate Operations Christy Ullo shared, "Pjeter's diverse and relevant background makes him an ideal fit for the GoE team. In addition to his ample expertise in Business Development specifically, his hands on experience providing both project and program management offers additional understanding of our team's needs project needs His leadership and expertise will be crucial as we work to identify opportunities and continue to grow GoE's footprint within both Federal and Private sector healthcare."
A Navy Veteran, Mr. Vucinaj brings both valuable military experience and expertise gleaned from his 30-year career providing patient care services and executive oversight in project and healthcare systems management positions. Beginning in 2002, he served as Command Master Chief for the U.S. Navy, delivering executive-level leadership and serving as the direct link to the Commanding Officer for all matters pertaining to staff and department functions. In 2007, he transitioned into a new role as the Senior Leader for the Naval Air Station Branch Health Clinic, where he directed 138 medical and dental health care providers at the branch clinic with daily operations, safety, and training requirements.
Most recently, Mr. Vucinaj served as VP, Director of Healthcare Solutions for Martek Global Services for more than ten years. While in this role, he was responsible for leading the firm's business development program, including capture and proposal management processes, while providing program development and oversight to multiple healthcare-related programs. During this period, he managed and oversaw the completion of ten Healthcare IO&T Task Orders under IDIQ MATOC for USACE in Huntsville, Alabama, as well as one IO&T Project under USACE in Little Rock, Arkansas, at Iquitos, Peru. He also managed and oversaw ten Veterans Administration Healthcare projects at various locations across the U.S.
He shared, "I am thrilled to be working with GoE and helping to support its mission of 'Serving Those Who Serve'. Having spent much of my career in service of Federal healthcare facilities, this mission is very important to me and I am pleased to have the opportunity to further develop GoE's capabilities and reach."
Additional information/comment/photos:
Christy Ullo, Executive Director of Strategy & Corporate Operations: 917.226.2127
Adam Shepherd, President & CEO: 347.0590