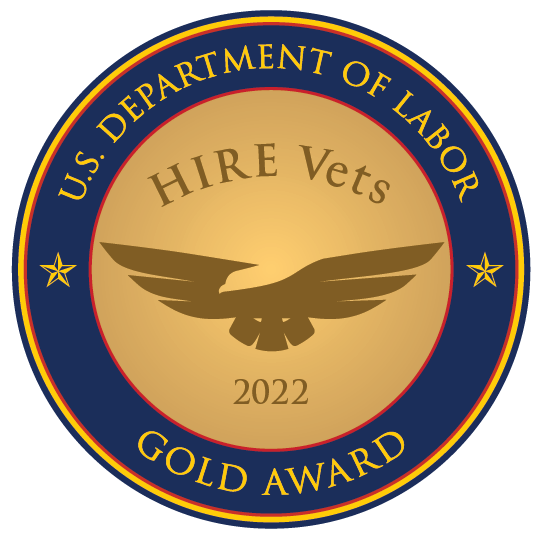 This week, the U.S. Secretary of Labor Martin J. Walsh recognized Go Energistics (GoE) with a 2022 HIRE Vets Gold Medallion Award. This is GoE's fourth consecutive receipt of the prestigious award, which distinguishes job creators who have made a commitment to recruit, employ and retain our nation's Veterans.
A Service-Disabled Veteran-Owned Small Business (SDVOSB), specializing in industry-leading project management delivery, GoE was founded on the basis of "Serving Those Who Serve". This motto is a constant reminder of our company's recruitment and hiring practices, which is focused on empowering Veterans within the workforce.
GoE President & CEO Adam B. Shepherd shared, "Receiving this award is an incredible honor and a testament to the Veteran-led team we have developed over time. As an Army Veteran myself, I am pleased to have the opportunity to prioritize Veterans within the GoE team, as I understand the value of their experiences and expertise. We are proud to have a team made up of those who have answered the call to service and our Veteran-centric hiring processes will continue to be a key element of our strategy as we grow our business."
Since 2011, GoE has delivered its strategic project delivery solutions in support of projects for the U.S. Department of Veterans Affairs (VA) and Department of Defense (DoD), helping to improve healthcare for Veterans across the nation. Most recently, GoE was selected to perform Initial Outfitting, Transition and Activation services for the Canandaigua VA Medical Center in New York.
GoE Executive Director Christy Ullo shared, "We are honored to have received this recognition from the Department of Labor yet again – but having the Veterans we have on our team is its own reward. Veterans offer a keen understanding of VA and DoD facilities, having spent time on the client side of the equation, and this has proven to be a major strength for our project work. We've seen Veteran expertise benefit our clients directly time and time again and we look forward to continuing to expand our Veteran team."
The Honoring Investments in Recruiting and Employing American Military Veterans Act (HIRE Vets Act) Medallion Program is the only federal award program that recognizes employers who successfully recruit, hire, and retain Veterans.
With this award, Go Energistics joins companies from 49 states, plus the District of Columbia, who have shown a commitment to not only hiring Veterans, but also ensuring that they have a long-term career and growth plan that uses the diverse skills they acquired through their military service. Recipients of the 2022 HIRE Vets Medallion Award meet rigorous employment and Veteran integration assistance criteria, including Veteran hiring and retention percentages; availability of Veteran-specific resources; leadership programming for Veterans; dedicated human resource efforts; pay compensation and tuition assistance programs for Veterans.
Additional information/comment/photos:
Christy Ullo, Executive Director of Marketing & Communications: 917.226.2127
Adam B. Shepherd, President & CEO: 214.347.0590
About the HIRE Vets Medallion Program
The HIRE Vets Medallion Award is earned by businesses that demonstrate unparalleled commitment to attracting, hiring and retaining veterans. The 2023 HIRE Vets Medallion Award application period will open to employers on Jan. 31, 2023. For more information about the program and the application process, visit HIREVets.gov.
There are different awards for large employers (500-plus employees), medium employers (51-499 employees), and small employers (50 or fewer employees). Additionally, there are two award tiers: platinum and gold.