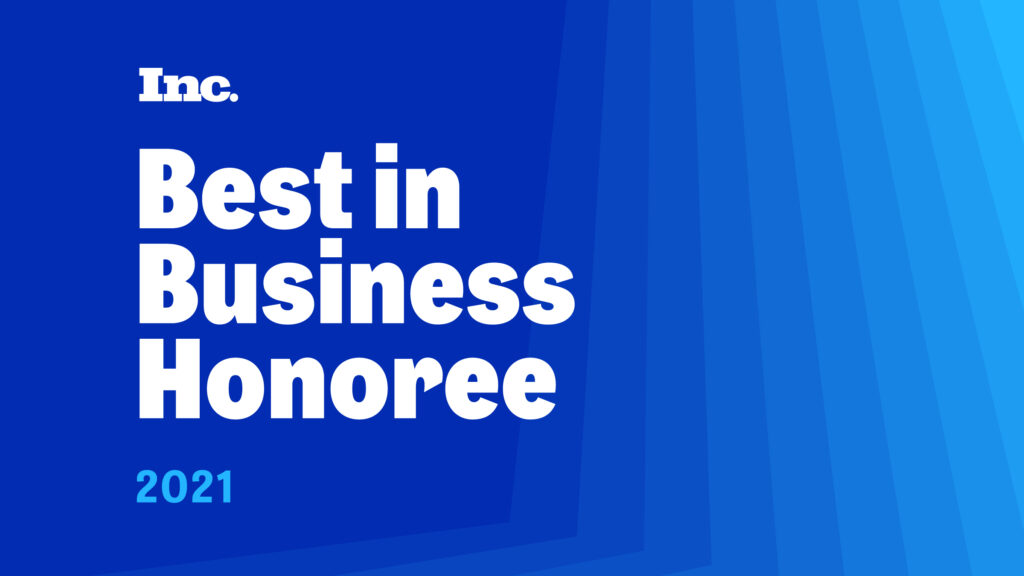 The Service-Disabled Veteran-Owned Small Business (SDVOSB) received a silver medal in Veteran Advocacy on the 2nd annual list, recognizing 147 private companies that put purpose before profit
Go Energistics (GoE) is pleased to share that it has been named to the Inc. 2021 Best in Business list in the Veteran Advocacy category. Inc.'s Best in Business Awards honor companies that have gone above and beyond to make a positive impact. The list, which can be found in the Winter issue of Inc. magazine, now available on newsstands, recognizes small- and medium-size privately held American businesses that have had an outstanding influence on their communities, their industries, the environment, or society as a whole.
GoE President & CEO Adam Shepherd shared, "As an SDVOSB, founded with the mission of 'Serving Those Who Serve', Veteran advocacy is a cause that is incredibly important to our company. We are pleased to be recognized for our efforts in this realm and look forward to continuing to support our nation's heroes in the future."
GoE specializes in industry leading initial outfitting, transition & activation (IOT&A) and other project delivery solutions for business and building transformations. Since 2011, the company has delivered its strategic project delivery solutions in support of projects for the U.S. Department of Veterans Affairs (VA) and Department of Defense (DoD), helping to improve healthcare for Veterans across the nation.
In addition to the projects GoE supports, the company has made a concerted effort to support Veterans through its hiring practices, currently representing a team made up of more than 30% Veterans. These Veterans in turn are empowered to bring their unique insight into the needs of the Veteran patients and service providers to every project. Earlier this year, GoE received its third consecutive HIRE Vets Gold Medallion from the U.S. Department of Labor in recognition of these hiring practices. Outside of the workplace, GoE serves as an official sponsor of the Yellow Ribbon Fund (YRF), which supports injured service members when they return home and transition into civilian life. As a Premier sponsor, GoE engages with YRF frequently each year in various fundraising and volunteer capacities, logging $100,000 in corporate donations and more than 1,000 volunteer hours in 2020 alone.
"At GoE, we believe in the importance of paying it forward," shared GoE Executive Director Christy Ullo. "Veteran advocacy is key to our overall mission and present in all that we do as a business. For us and our entire team, 'Serving Those Who Serve' is more than a motto, but a way of life."
Scott Omelianuk, editor-in-chief of Inc., says, "What began for us during the pandemic as an effort to showcase companies that were helping the community has grown into a recognition of social, environmental, and economic impact. The companies on this year's list are changemakers with heart – and they're pouring the best of their business into the people and communities around them."
Rather than relying on quantitative criteria tied to sales or funding, Inc.'s editors reviewed the companies' achievements over the past year and noted how they made a positive difference in the world. They then selected honorees in more than 49 different industries – from finance to software to engineering to fashion, and more – and in age-based and revenue-based categories. The applicant pool was extremely competitive, with around 2,700 entries and an acceptance rate in the low single digits – a huge success for these honors in the list's second year. Honorees for gold, silver, bronze, and general excellence across industries and categories are featured online at inc.com/best-in-business.
You can view the full list here.
ABOUT INC. MEDIA
The world's most trusted business-media brand, Inc. offers entrepreneurs the knowledge, tools, connections, and community to build great companies. Its award-winning multiplatform content reaches more than 50 million people each month across various channels, including websites, newsletters, social media, podcasts, and print. Its prestigious Inc. 5000 list, produced every year since 1982, analyzes company data to recognize the fastest-growing privately held businesses in the United States. The global recognition that comes with inclusion in the Inc. 5000 allows these founders a chance to engage with their peers in an exclusive community with the credibility to help drive sales and recruit talent. The associated Inc. 5000 Conference is part of a highly acclaimed portfolio of bespoke events produced by Inc. For more information, visit www.inc.com.