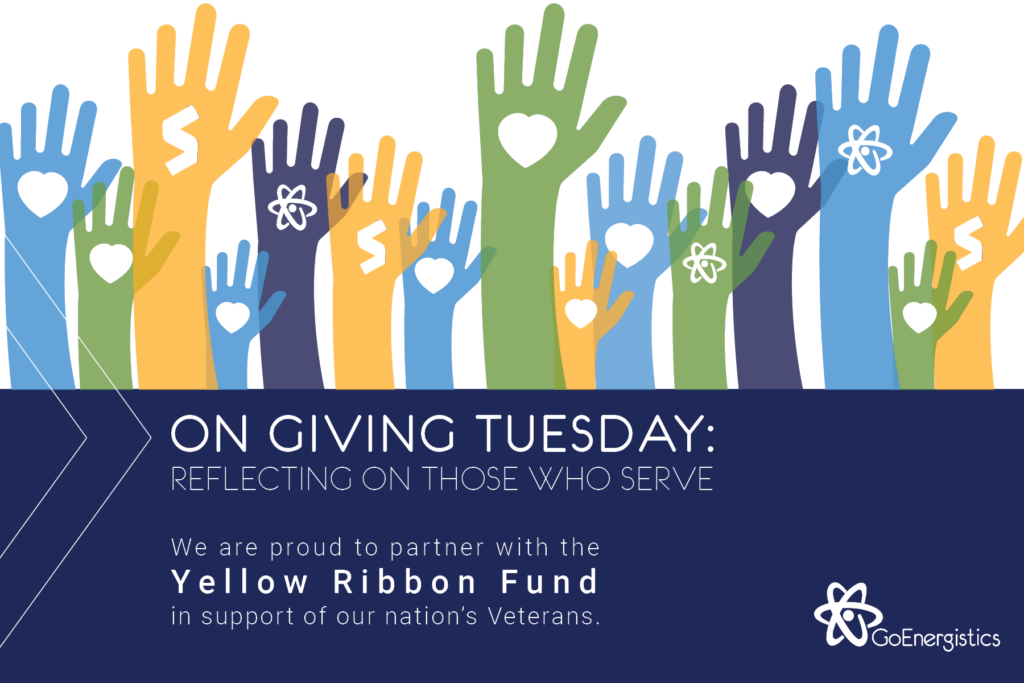 The holiday season is moving ahead at full steam! It's hard to believe it but Thanksgiving has come and gone, with Christmas, Hannukah and the close of 2022 just around the corner. With so much celebration in the air, it's hard to deny the joyous feeling of the holiday season – an opportunity to spread cheer to others.
Today, we recognize a lesser known but still very important part of the holiday season as we come together to celebrate Giving Tuesday. Giving Tuesday originated just 10 years ago in 2012 and has grown into a global movement encouraging good deeds and acts of service throughout the holiday season. Each year on Giving Tuesday, I try to take time to reflect on what it means to give back and serve. Time and time again I've come away with an understanding that when we put service out into the universe, we receive it back tenfold.
Throughout my life I've learned this first-hand, perhaps most significantly during my time leading the GoE team. After retiring from the Army, I set out to found GoE with our mission of Serving Those Who Serve through both our VA and DoD projects, and by providing a workplace where I could prioritize the hiring of Veterans. After working in logistics within the Army for nearly 25 years, I knew there was a great depth of skill and expertise untapped within our Veteran community. Sadly, I was also aware of the statistics for our service members when they return home – with many struggling to readjust to civilian life. I was determined to help break that cycle through Veteran-centric hiring practices.
Today, we have a team made up of about 50% Veterans, many of whom have personally experienced or been impacted by service injuries. We were recently recognized by the U.S Small Business Administration (SBA) Dallas/Fort Worth Office as the District 2022 Veteran Small Business Champion of the Year and received our fourth consecutive HIRE Vets Gold Medallion from the U.S. Department of Labor for our efforts to employ our nation's Veterans. While deeply honored by this prestigious recognition, the greatest reward for our service is our GoE Veteran team itself. On every project, GoE's Veteran team brings learned insights to the unique needs of our nation's Veterans, their families and those who serve them. I've enjoyed the opportunity to use my own experiences to guide our Veteran staff, who in turn are able to apply their knowledge to support hundreds of thousands of Veterans through our work. Ultimately, our decision to support our nation's Veterans demonstrates the power of paying it forward in service to one another.
Keeping this mind, we are once again honoring Giving Tuesday by partnering with the Yellow Ribbon Fund (YRF), which offers support to wounded service members when they return home. Throughout the week of Giving Tuesday, GoE is matching donations to YRF up to $10,000. These funds will go directly to those service members who need it most, and it is our hope that through the matching program we can inspire additional donations to this important cause. Click here to join us and donate to YRF.
However you choose to mark the occasion, have a safe, happy and blessed Giving Tuesday!
Adam B. Shepherd, President & CEO
Additional information/comment/photos:
Christy Ullo, Executive Director of Marketing & Communications: 917.226.2127
Click here to learn more about GoE's community outreach program.