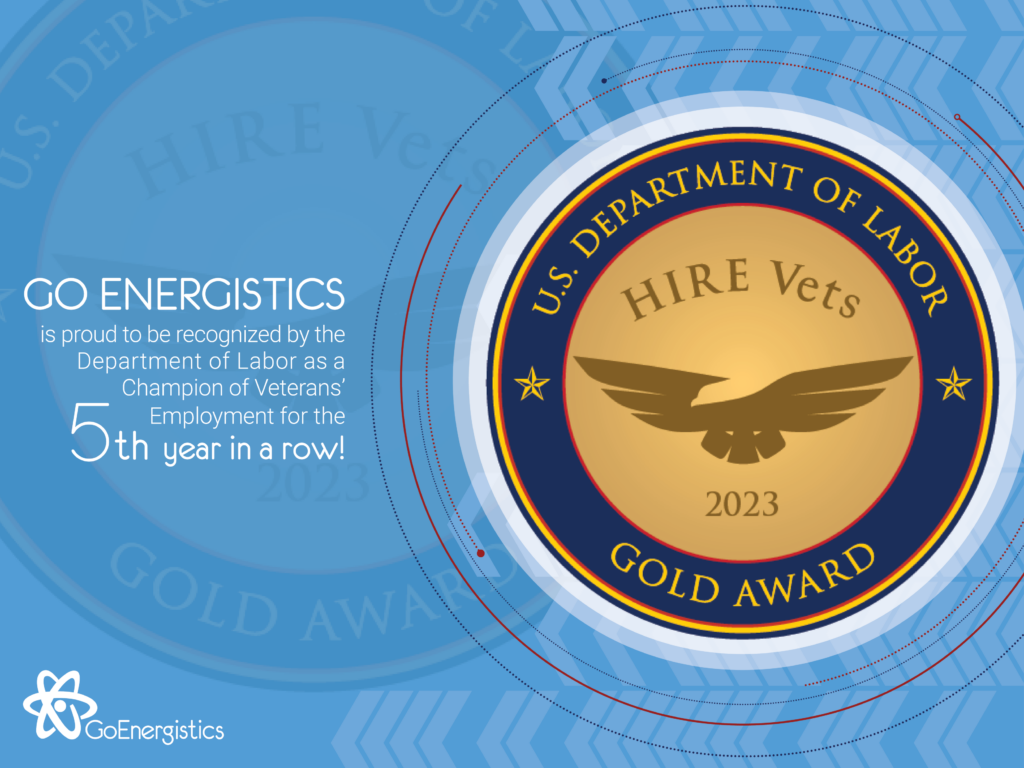 This week, U.S. Acting Secretary of Labor Julie A. Su recognized Go Energistics (GoE) with a 2023 HIRE Vets Medallion Award from the U.S. Department of Labor. This is GoE's fifth consecutive receipt of the Gold Medallion, which distinguishes job creators who have made a commitment to recruit, employ and retain our nation's Veterans.
A Service-Disabled Veteran-Owned Small Business (SDVOSB), specializing in industry-leading project management delivery, GoE was founded on the basis of "Serving Those Who Serve". With this award, GoE joins companies from 49 states, plus the District of Columbia, who have shown a commitment to hiring Veterans, and ensuring they have a long-term career and growth plan that uses the diverse skills they acquired through their military service.
GoE President & CEO Adam B. Shepherd shared, "As an Army Veteran myself, I am pleased to have the opportunity to prioritize Veterans within the GoE team. I understand the value of their experiences, exceptional skillsets and expertise, firsthand. We are proud to have a team made up of those who have answered the call to service and receiving this award is a testament to the value they have consistently brought to our business."
GoE Technology Solutions Director H Bowman-Trayford, a Navy Veteran, added, "Working at GoE for the last four years has been an incredible part of my post-military life. Surrounded by fellow Veterans and medical experts, I feel an immense sense of belonging and pride. Our VA projects offer an opportunity to support the expansion and/or updating of facilities where many of us and our families receive care. Being on both sides of Veteran support in this way is personally and professionally rewarding and I am proud to be a part of an organization with these values."
Since 2011, GoE has delivered its strategic project delivery solutions in support of projects for the U.S. Department of Veterans Affairs (VA) and Department of Defense (DoD), helping to improve healthcare for Veterans across the nation. Most recently, GoE was selected to perform Initial Outfitting, Transition and Activation services for the Tobyhanna Army Depot.
The Honoring Investments in Recruiting and Employing American Military Veterans Act (HIRE Vets Act) Medallion Program is the only federal award program that recognizes employers who successfully recruit, hire, and retain veterans. Recipients of the 2023 HIRE Vets Medallion Award meet rigorous employment and veteran integration assistance criteria, including veteran hiring and retention percentages; availability of veteran-specific resources; leadership programming for veterans; dedicated human resource efforts; pay compensation and tuition assistance programs for veterans.
Additional information/comment/photos:
Pjeter Vucinaj, Director – Business Development, 256.425.6819
Adam B. Shepherd, President & CEO: 214.347.0590
About the HIRE Vets Medallion Program
The HIRE Vets Medallion Award is earned by businesses that demonstrate unparalleled commitment to attracting, hiring and retaining veterans. The 2023 HIRE Vets Medallion Award application period will open to employers on Jan. 31, 2024. For more information about the program and the application process, visit HIREVets.gov.