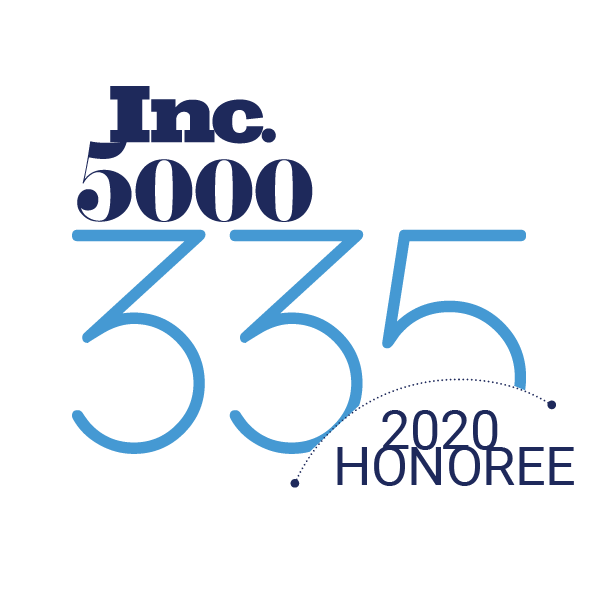 Go Energistics (GoE) is pleased to announce that it has been named on the 2020 Inc. 5000 list, the most prestigious ranking of the nation's fastest-growing private companies. This is GoE's second consecutive appearance on the list, coming in at No. 335 overall, No. 18 in Texas and No. 8 in the Dallas, TX area.
The list represents a unique look at the most successful companies within the American economy's most dynamic segment—its independent small businesses. As a Service Disabled-Veteran Owned Small Business (SDVOSB), GoE represents a unique section of this group, made up of those who have served our nation before building their businesses. In GoE's case, this distinction is a major driver for the company's mission of Serving Those Who Serve through its support of VA and DoD projects.
"We are thrilled to once again be recognized among such impressive fellow-honorees," said GoE President & CEO Adam Shepherd. "We credit our success to our exceptional group of subject-matter-experts, who have been instrumental in keeping our projects on track throughout the coronavirus (COVID-19) pandemic without missing a beat. The challenges we are facing today have reinforced my appreciation for the incredibly strong team we have assembled here at GoE. In that spirit, I would like to dedicate this latest recognition directly to them."
GoE's inclusion on this list is due in part to the company's impressive three-year revenue growth rate. Since its inception in 2011, GoE has developed a holistic team, positioned in strategic locations across the U.S., which has completed more than 100 projects nationwide. Currently, GoE is providing Initial Outfitting, Transition & Activation (IOT&A) services on multiple active, large-scale projects, accounting for more than 3 million square feet of planned transformations.
In addition to the Inc. 5000, this is GoE's second time appearing on the top tier, Inc. 500 list. Honorees in the top 500 will be featured in the September issue of Inc. Magazine, available on newsstands August 18, 2020.
The annual Inc. 5000 event honoring the companies on the list will be held virtually from October 23 to 27, 2020. Complete results of the Inc. 5000 can be found at www.inc.com/inc5000.
Additional information/comment/photos:
Christy Ullo, Executive Director of Strategy and Corporate Operations: 917.226.2127
Adam Shepherd, President & CEO: 214.347.0590