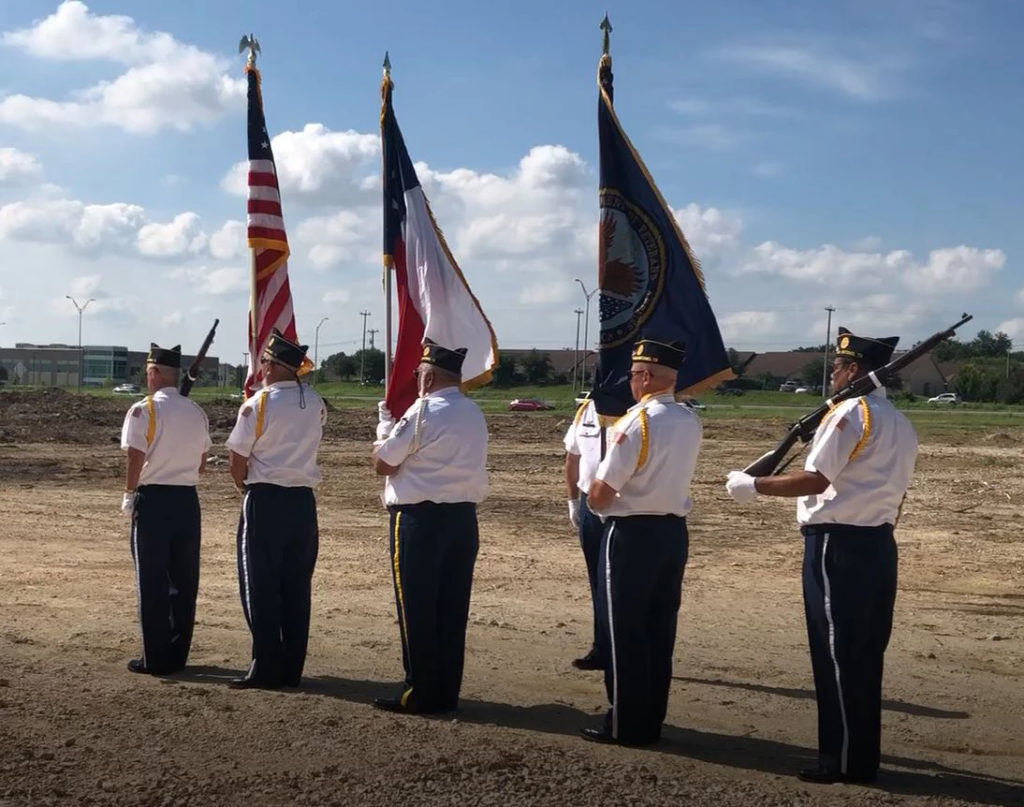 On July 12, 2019, the South Texas Veterans Health Care System (STVHCS) held a groundbreaking ceremony for the San Antonio Northwest Health Care Center. Held on-site of the planned clinic, the event welcomed project teams, local Veterans groups and government officials to celebrate this milestone for the new facility.
Project Manager Alex Vasquez was in attendance as a representative of Go Energistics.
He shared, "It was wonderful to be able to attend and mark the occasion alongside all involved in this important project. There was a real sense of ceremony and purpose as we broke ground on this new facility.
I was particularly moved by the flag presentation and national anthem, which served as a reminder of the men and women at the center of this project – the Veterans themselves. The presented flag will eventually fly over a facility which will welcome 100,000 local Veterans and greatly impact their quality of care."
Speakers at the event included Texas State Senator Jose Menendez and STVHCS Medical Center Director / CEO Christopher R. Sandles.
Mr. Sandles shared, "We are pleased and excited to be breaking ground on the San Antonio North West Health Care Center, understanding its significance to the tens of thousands of local Veterans who will benefit from the services made available through its construction. This project represents a culmination of our mission to serve Veterans throughout San Antonio and the surrounding area by providing efficient access to the highest-quality health care services."
Streamlining Veterans Health Care in San Antonio
Through the construction of the San Antonio Northwest Health Care Center, STVHCS will consolidate the existing services from multiple locations. In doing so, STVHCS will create efficiencies to better serve veterans through centralized delivery of coordinated health care through a single combined lease.
Designed by Hoefer Wysocki, the new clinic will include a 190,800 square foot facility with over 1,500 parking spaces. The project will collocate primary care, mental health, ophthalmology, dental pharmacy, prosthetics, laboratory, canteen and imaging services and Veterans Benefits Administration all under one roof to provide one-stop service for the 100,000 veterans served. In addition to improving access to primary and mental health care, the clinic will feature enhanced security measures while incorporating numerous green initiatives.
Expanding VA Health Care Access Nationwide
The San Antonio North West Health Care Center consolidated lease project is one of 13 major leases granted by the U.S. Department of Veterans Affairs (VA) in late 2018 to improve access to care and deliver health care facilities to Veterans across the U.S.
At their award, VA Secretary Robert Wilkie shared "These awards are the next step in increasing access for our Veterans across the country. VA stands firm in ensuring our Veterans are treated in state-of-the-art facilities and continue to access the high quality of care VA is able to provide."
For additional information/comment/photos:
Christy Ullo, Executive Director of Marketing & Communications: 917.226.2127
Adam Shepherd, President & CEO: 214.347.0590