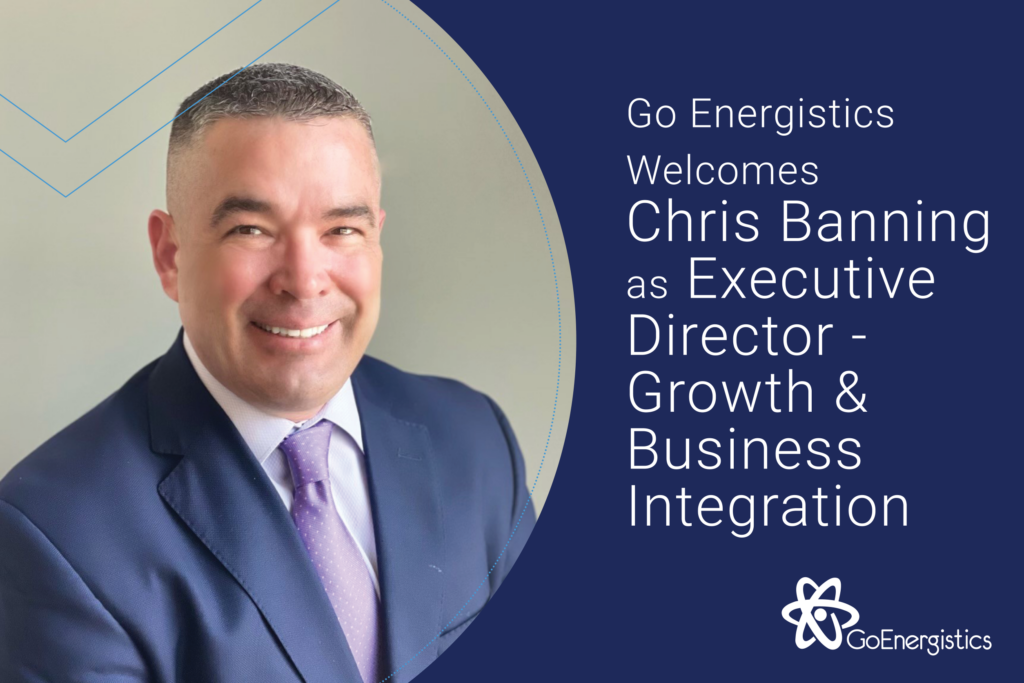 The decorated Air Force Veteran brings significant expertise to the Service-Disabled Veteran-Owned Small Business 
Go Energistics (GoE) is pleased to announce the appointment of Chris Banning as Executive Director – Growth & Business Integration. Mr. Banning will assume a strategic role in the growth of the company as a member of the executive leadership team and provide synergies through his expertise and long-standing industry experience. In this role, he will work to expand GoE's overall suite of services within the Federal and Private Sectors including PM services, implementation, procurement, and IT support.
Mr. Banning brings significant military experience to GoE, a Veteran-Owned Small Business, having served in the United States Air Force during Desert Storm and Shield, receiving a Southwest Asia Service Medal for his service during the latter. A lifelong Oklahoman, he stepped up in support of his community in the wake of the Oklahoma City bombing, working on the frontlines of rescue and recovery missions. For his service to Oklahoma City, he received the Humanitarian Service Medal by the United States Armed Forces.
After beginning his civilian career in sales management, Mr. Banning founded his first company, Government Supply LLC, in 2010, selling to a Fortune 500 Company after just 8 months. Mr. Banning then opened his second business, Banning I.T. Solutions LLC, which he sold to one of the largest native tribes in the nation. In 2013, Mr. Banning founded Banning Contracting Services (BCS), a full-service information technology integrator providing professional design, installation, project management/supervision, maintenance services, product procurement, and consulting services. Under Mr. Banning's leadership, BCS has been committed to serving both the country and the nation's active duty and retired military. Mr. Banning recently sold BCS, his third company, to a firm out of Utah.
"We are thrilled to welcome Chris to Go Energistics," said GoE President & CEO Adam Shepherd. "His broad expertise and relationships within our service areas and target markets is complimented by his decorated military history and commitment to service. His presence on our executive leadership team will be a tremendous asset and we look forward to continuing to expand our offerings and execute our vision with his support."
This appointment comes in part due to GoE's rapid expansion as a go-to provider initial outfitting, transition & activation (IOT&A) and other project delivery solutions. Since its founding in 2011, the company has delivered its strategic project delivery solutions in support of projects for the U.S. Department of Veterans Affairs (VA), Department of Defense (DoD), and within the private sector, helping to improve healthcare for Veterans, healthcare providers, patients, and their families, across the nation.
"I am very excited to join the Go Energistics team," said Chris Banning. "Coming from my background in the military, I appreciate the opportunity to join an organization that truly serves as a voice for Veterans in the transformation of healing environments. GoE has some of the most respected and talented individuals in government contracting and I'm very humbled to now be considered part of this amazing team. I consider it an honor to lend my expertise in support of the company's larger mission of 'Serving Those Who Serve' across the United States."
Additional information/comment/photos:
Christy Ullo, Executive Director of Strategy & Corporate Operations: 917.226.2127
Adam Shepherd, President & CEO: 214.347.0590